Yes, this is for the 2007 movie, so there are spoilers. Leave now if you haven't seen the movie and don't want to spoiled.
BROTHERS IN (BROKEN) ARMS
A TMNT 2007 Fanmix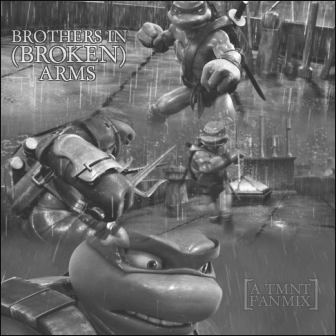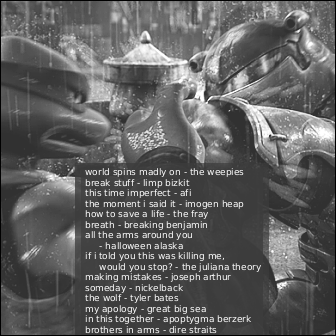 This is centred around the (main) conflict between Raphael and Leonardo. You know, that one that lasts for about 85% of the movie and culminates in a scene in the rain that tears your heart out. Yes, that one.
BLUE
- Leonardo
RED
- Raphael
GREEN
- Both
This mix actually follows a sort of a timeline that centres around Raphael and Leonardo, starting from when Leonardo leaves, to his return, to their fight, and finally to their reconciliation. I hadn't meant for it to turn out that way, but then I realized that some of the songs I'd chosen for Raphael were preceding Leo's return, and a few of the songs were dealing with the aftermath of their fight. So, huzzah! A story through songs was born. Or something.
01.
WORLD SPINS MADLY ON - The Weepies
[
download
| 3.37 MB |
lyrics
]
Leo leaves, and the team is defunct. Raph fails to cope with either of these things.
With an aching in my head
I lay motionless in bed
I thought of you and where you'd gone
And let the world spin madly on

Everything that I said I'd do
Like make the world brand new
...
The night is here and the day is gone
And the world spins madly on

I thought of you and where you'd gone
And the world spins madly on
02.
BREAK STUFF - Limp Bizkit
[
download
| 2.59 MB |
lyrics
]
Angriest song to ever be angry. Raphael is
beyond
furious; he's a frustrated mess who's taken to roaming the streets at night and just
daring
anyone to mess with him. Without his brothers to help moderate his aggressiveness, Raphael has nothing to hold him back — far from being a hero, he's become someone who is feared by those he's trying to protect. And he can't figure out why.
It's just one of those days
Feelin' like a freight train
First one to complain
Leaves with a blood stain
Damn right I'm a maniac
You better watch your back
...
My suggestion is to keep your distance
'Cause right now I'm dangerous
03.
THIS TIME IMPERFECT - AFI
[
download
| 3.48 MB |
lyrics
]
Leonardo comes home. Raphael he can't admit how much Leo's absence affected him,
hurt
him... and Raph, being Raph, turns that hurt into anger and resentment.
There are no flowers, no, not this time
There'll be no angels gracing the lines
Just these stark words, I find
I'd show a smile, but I'm too weak
I'd share with you could I only speak
Just how much this hurts me
04.
THE MOMENT I SAID IT - Imogen Heap
[
download
| 6.80 MB |
lyrics
]
Leo knows that something isn't right with Raph; he just doesn't know what it is. What he
does
know is that he doesn't like this change at all.
The moment I said it
The moment I opened my mouth
Lead in your eyelids
Bulldozed the life out of me

I know what you're thinking
But darling you're not thinking straight
Sadly things just happen we can't explain

It's not even light out,
But you've somewhere to be — no hesitation
No, I've never seen you like this
And I don't like it, I don't like it, I don't like it at all
05.
HOW TO SAVE A LIFE - The Fray
[
download
| 7.05 MB |
lyrics
]
Okay, so I pretty much quoted the whole song. But it's so fucking perfect for their confrontation on the roof. Leo tries to get through to Raph, hoping to make him see sense, but he goes about it the wrong way — while outwardly he's calm, it's the kind of calm that comes from being really,
really
pissed off. And then he says the words that basically guarantee that Raphael isn't going to listen to him: "I'm better than you." It all goes downhill from there.
Let him know that you know best
'Cause after all you do know best
Try to slip past his defense
Without granting innocence

Lay down a list of what is wrong
The things you've told him all along
And pray to God he hears you
And pray to God he hears you

Where did I go wrong, I lost a friend
Somewhere along in the bitterness
And I would have stayed up with you all night
Had I known how to save a life

As he begins to raise his voice
You lower yours and grant him one last choice
Drive until you lose the road
Or break with the ones you've followed

He will do one of two things
He will admit to everything
Or he'll say he's just not the same
And you'll begin to wonder why you came
06.
BREATH - Breaking Benjamin
[
download
| 5.88 MB |
lyrics
]
Leo to Raph, just before and during their fight. He knows he isn't getting through to Raphael, and if Leo has to beat him to get him to realize his errors, then he will. (Or, at least, try to.)
I see nothing in your eyes, and the more I see the less I like
...
You take the breath right out of me
You left a hole where my heart should be
You got to fight just to make it through
'Cause I will be the death of you

This will be all over soon
Pour salt into the open wound

Is it over yet? Let me in.
07.
ALL THE ARMS AROUND YOU - Halloween Alaska
[
download
| 5.60 MB |
lyrics
]
Raph's still not listening to him. And Leo's losing.
Into some forgotten space
Where the envy and the hate
Swim around in figure eights
Swim around in figure eights

You're the brother and the beast
You're the friend I knew the best
Can't you listen to the past?
08.
IF I TOLD YOU THIS WAS KILLING ME, WOULD YOU STOP? - The Juliana Theory
[
download
| 3.58 MB |
lyrics
]
Raphael isn't the only one who can get angry — but while Raph shoves down the pain that caused the anger, Leonardo feels the hurt from this as freshly as if Raph had literally stabbed him through the heart. And, frankly, it looks like he's going to.
Watch your mouth
Hold your tongue
Some things are better left unsaid
Now I hope you're pleased
You got your prize and tongue
I dance between your words
Right before you fall
RIGHT BEFORE YOU—
Why don't you, why don't you say that to my face?
I've had a rip down, torn out so many things
Everything you, every time you, every word you say
If I told you this was killing me, would you stop?
09.
MAKING MISTAKES - Joseph Arthur
[
download
| 7.16 MB |
lyrics
]
After Raph pins Leo, poised as if to kill, it suddenly hits him what he's just done. And just how badly he's fucked up.
Lying on a killing floor
With a frozen spine
Back to where I was before
Only worse this time
...
I've been locked up with my shadow
Bouncing off these crazy walls
Surrounded by all kinds of darkness
Praying for a light to fall

So if forgiveness avoids you
And all your love is soft like clay
I hope you will think to call me
You know I would be on my way

Making mistakes
10.
SOMEDAY - Nickelback
[
download
| 3.19 MB |
lyrics
]
At some point, they would have worked it out, but Raph wasn't given the opportunity to figure himself out after he fled their battleground — the Foot and the Generals took that away from him, and more importantly, they took Leo. And he is not fucking having that.
Well, I'd hope that since we're here anyway
That we could end up saying
Things we've always needed to say
So we could end up staying

Now the story's played out like this
Just like a paperback novel
Let's rewrite an ending that fits
Instead of a Hollywood horror
11.
THE WOLF - Tyler Bates
[
download
| 3.02 MB |
instrumental
]
On the way to Winters' Doom Emporium!
"We're gonna rescue our brother."
12.
MY APOLOGY - Great Big Sea
[
download
| 2.45 MB |
lyrics
]
Even when he is, Raphael doesn't come right out and say that he's sorry.
"You're gonna need these if you're gonna lead us out of here."
Leo understands that.
It's not the way that I intended this
I didn't realize how much I would miss
But with every parting of our company
I hate to think what it has done to me
...
This has to be my apology
...
Probably best to forget and begin again
13.
IN THIS TOGETHER - Apoptygma Berzerk
[
download
| 7.44 MB |
lyrics
]
Forgiveness, and then everything falls into place.
And in your troubled eyes I see
Someone who carried me somehow
Like footprints in the sand
You've been behind me all along

We got it wrong from the start
Now it's you and me, let's hit it on
Don't you see, it's you and me
Against the world
14.
BROTHERS IN ARMS - Dire Straits
[
download
| 6.49 MB |
lyrics
]
While this song suits Leo's way of thinking, it could also be all the Turtles. Basically, it sums up everything — they've gone through hell, both together and against each other, but no matter what happens they'll always be brothers.
In the fear and alarm
You did not desert me
My brothers in arms
BROTHERS IN (BROKEN) ARMS
Complete ZIP file :: 67.7 MB
[contains cover art & all music]


Please comment if you're downloading. Thanks!